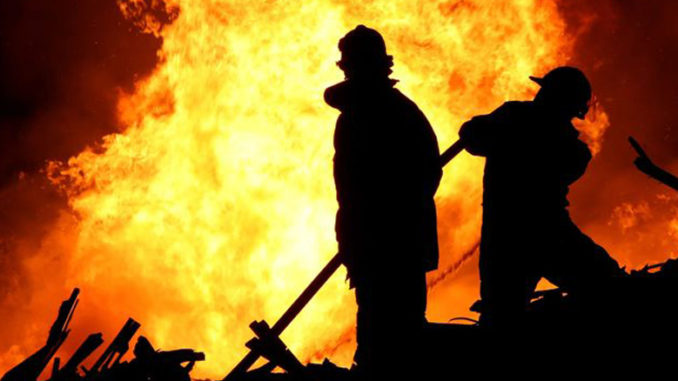 Most of the time when one considers the role of an insurance company in the event of a fire, it is felt the company only indemnifies after the fire has occurred.
It appears several insurance companies have decided they suffer less of a loss if they are proactive in protecting insured properties before the loss occurs. They have built into their homeowners fire policies a provision whereby an insured can elect to take advantage of the provision of having a wildfire defense team come to the property and prep it to better withstand the threat of a wildfire. Apparently there is no increase in premium to have this service, but it does require the insured to opt in to the coverage. This gives the wildfire defense team permission to come onto private property to do their work.
This is similar to the "1681 era" where the insurance company "Insurance Office for Houses" gave fire insurance markers to its clients which they would place in a conspicuous spot so firefighters hired by the insurance company could identify the risk and respond to the fire. These firefighters were not allowed to fight any other fires since they were being paid by the company from premiums paid by insureds–definitely not good for public relations, and eventually local insurers agreed to let the local government provide the fire fighting aspect while the insurance companies would provide the cash and equipment. All these came about from the "1666 Great fire of London" where 13,000 homes were destroyed by fire. People learned insurance was a necessity and not a luxury.
Implementation
Today, these two-men teams–along with their fire truck and fire equipment–are dispatched by the insurance company when it appears a wildfire is headed in a certain direction. The fire crews work under the discretion of government fire incident commanders so those commanders know where they are. The duty of the wildfire defense team is to do preventative measures, i.e. clean out gutters, tape vents closed, clear combustibles away from property, and in some instances install sprinklers; so when the fire comes the house has a better chance of survival.
Summary
This provision has been in some policies for some time, but with the rash of wildfires in 2017 it is drawing a whole lot more attention. The duties performed by these wildfire defense teams are duties which should have been done by the insured as part of pride in ownership; but recognizing the real world, these companies have found it less expensive to do the preventative tasks rather than waiting to pay for a much more potentially expensive fire loss.
It will be interesting over the next few years to see how insurance companies will respond to these catastrophic losses. Watch for rates to increase dramatically, companies pulling out of the market, or government in its infinite wisdom trying to legislate what insurance industry should do. The jury is out so wait and see.
(This post, updated on 4/11/18 was prompted by an article written by Christopher Weber, Associated Press, December 21, 2017; modified 2/20/2018)